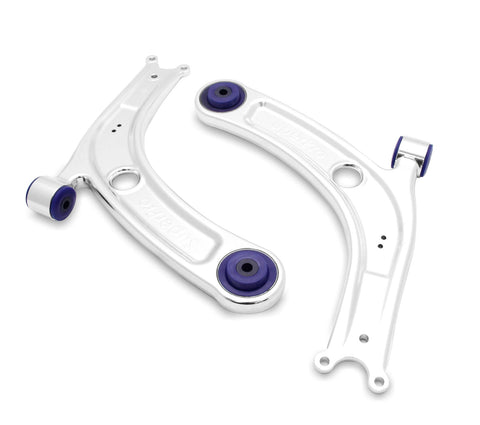 SuperPro Alloy Front Lower Control Arm Set - VW/Audi MQB 1.8T/2.0T
The new arm features a centered DuroBall kit and a new arm shape that provides significant clearance for easy bolt-on fitment across the MK7+ and 8V+ platforms.

Adding ~1.0° of positive caster and ~-0.5° of negative camber with a conventional SuperPro bushing in the forward position and their DuroBall assembly in the rear position, this kit brings precise handling, improved grip, enhanced steering feel and feedback in a transformative bolt-on upgrade.

This kit is the latest addition to the most complete MQB suspension upgrade range on the market – it is a brilliant standalone upgrade or an ideal addition to complete your SuperPro suspension package.
Superior Forged Alloy Design:

Lighter, lower unsprung weight
44% lighter than stock OE steel arm
Corrosion resistant
Enhanced Mount and Bushing construction:

Special low friction stainless steel insert
Bushing bonded direct to high-stress alloy bracket
Designed to go the distance:

Superior engineered polyurethane bushing
Stainless steel metal tube
Knurled bore for superior grease retention
Performance Grip Benefits:

Up to +1.0 ° extra dynamic positive caster
Supertrac anti-lift geometry for more traction!
Additional ~0.5° of negative camber
SuperPro Tip:
Care needs to be taken with aggressively lowered vehicles with non standard tire and wheel packages to avoid tire/guard contact.
---
We Also Recommend
---