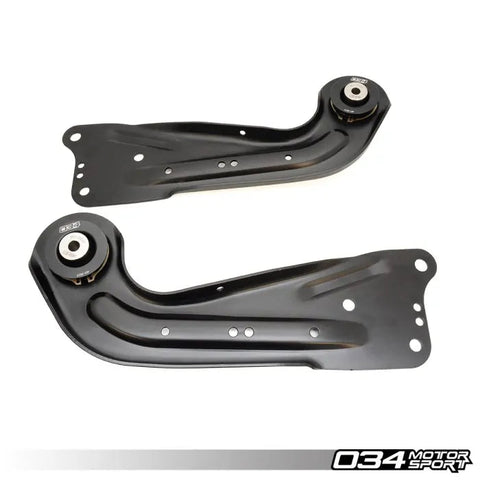 034Motorsport Spherical Rear Trailing Arm Kit - MQB/e 1.8T/2.0T
Description:
The 034Motorsport Rear Trailing Arm Spherical Bearing Upgrade Kit is designed to replace the factory rubber bushings, resulting in improved handling, and more predictable and precise cornering.
Factory rubber rear trailing arm bushings deflect under load, causing the rear end to feel vague and loose, as well as leading to improper suspension geometry and increased understeer. This becomes especially apparent when cornering on uneven surfaces, where the back of the car can feel floaty or unpredictable. The same exact rubber bushing was used by Audi/Volkswagen on a variety of applications, from the Volkswagen Golf to the Audi RS3, leaving much to be desired by enthusiasts and competitive drivers alike. 
This kit replaces the rubber bushings with motorsport-quality Aurora Spherical Bearings, which allow for proper articulation without any deflection, ensuring precise handling, and confidence-inspiring road feel. Unlike polyurethane bushings, spherical bearings allow for full suspension articulation without binding, while completely eliminating slop from bushing flex. 
Features:
Fully Assembled with New Factory Steel Trailing Arms - Simple Bolt-In Installation!
Genuine Aurora Spherical Bearings Featuring Self-Lubricating Teflon Race Lining
Billet Aluminum Bearing Holders - Anodized Black
Stainless Steel Bearing Spacers
Improved Handling & Road Feel
More Precise & Predictable Handling
Fully Rebuildable
Replaces:
5QM505223

  5QM 505 223

5QM505224

  5QM 505 224

5Q0505541A

  5Q0 505 541 A
Alignment:
034Motorsport RS3 track use alignment specs; these specifications are optimal for a track driven car with a very "loose" handling attitude and lively rear end that drives towards oversteer. Caution should be used with these alignment specs as they can cause the car to over-rotate and spin, especially during throttle-lift conditions while turning:
Front: (Tires: 265/35-18 Michelin Sport Cup 2)
Rear: (Tires: 245/40-18 Michelin Sport Cup 2)

Camber: -1.5 degrees each side
Toe: 0.8mm (toe-in) each side
Our test vehicle is also running 034Motorsport front and rear sway bars, and all 034Motorsport spherical Motorsport line of products.
NOTE:
We recommend getting an alignment after installing the 034Motorsport Rear Trailing Arm Spherical Bearing Upgrade Kit.
---
We Also Recommend
---