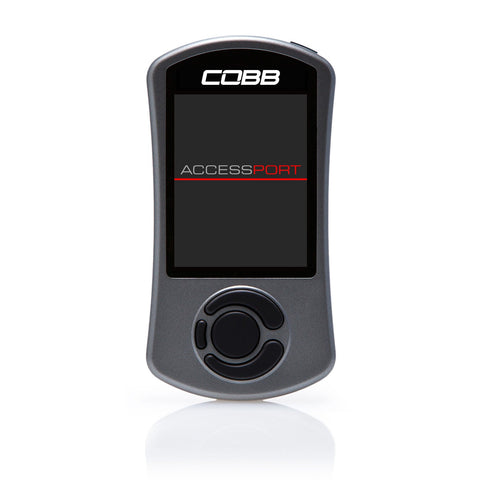 Cobb V3 Accessport - Porsche 95B.2/.3 Macan (S / GTS / TURBO)
DESCRIPTION
Throw away your gauges!! The new in-cabin mountable Accessport V3 has a large, full color, higher resolution screen which allows you to monitor up to six parameters in real time. Fully customizable from the look (multiple bezel colors), layout (set up a race, street or dyno gauge cluster) and mounting options (choose from 1,000s of standard vehicle mounts). Of course, all of the great COBB tuning is included - with enough space for 100 calibrations. This is your new Accessport - and maybe the last one you'll ever need.

All Performance Maps are pre-loaded on the Accessport.

Warning! Installation of this Accessport over anything other than OEM or COBB software may result in ECU/TCU failure. Please contact COBB Support if you have any questions.
---
WHY? 
The Accessport V3 is the world's best selling, most flexible ECU upgrade solution for Porsche. Unlock power hidden within the vehicle by replacing conservative factory settings with more aggressive calibrations. Upgrade forever with off-the-shelf (OTS) calibrations for most bolt-on modifications. It's the last engine management solution you'll ever need.
95B.2 Macan S:
Stage 1 91
Peak Gains: +6% HP, +10% TQ
Max Gains: +15% HP, +15% TQ 
Stage 1 93
Peak Gains: +9% HP, +13% TQ
Max Gains: +17% HP, +17% TQ  
---
95B.2 Macan GTS:
Stage 1 91
Peak Gains: +12% HP, +13% TQ
Max Gains: +17% HP, +17% TQ 
Stage 1 93
Peak Gains: +15% HP, +21% TQ
Max Gains: +26% HP, +26% TQ  
---
95B.2 Macan Turbo:
Stage 1 91
Peak Gains: +0% HP, +17% TQ
Max Gains: +47% HP, +47% TQ 
Stage 1 93
Peak Gains: +3% HP, +26% TQ
Max Gains: +36% HP, +37% TQ  
CLICK HERE FOR MAP NOTES, DYNO CHARTS AND POWER GAINS
---
Emissions
50 State Legal
This part is legal for sale and use on Emissions Controlled Vehicles in all 50 states when used in accordance with the manufacturer's application guide because it has a California Air Resources Board (CARB) Executive Order (EO) number:
Fitment
2021 Porsche Macan (95B.2) Turbo PDK USDM
2021 Porsche Macan (95B.2) S PDK USDM
2021 Porsche Macan (95B.2) GTS PDK USDM
2020 Porsche Macan (95B.2) Turbo PDK USDM
2020 Porsche Macan (95B.2) S PDK USDM
2020 Porsche Macan (95B.2) GTS PDK USDM
2019 Porsche Macan (95B.2) S PDK USDM
---
We Also Recommend
---