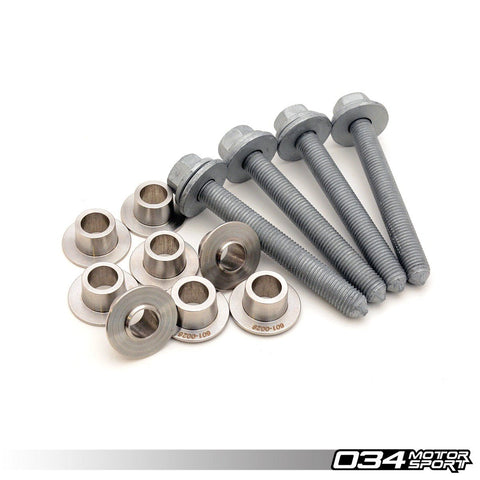 034Motorsport Stainless Steel Front Subframe Locking Collar Kit - Audi MQB 1.8T/2.0T/2.5T


034Motorsport's MQB Front Subframe Locking Collar Kit eliminates subframe shifting and precisely locates the front subframe on 8V/8V.5 Audi A3/S3/RS3 & 8S Audi TT/TTS/TTRS models.
This kit includes 8 precision-machined stainless steel subframe locating collars and 4 new bolts, and can be installed in approximately one hour for a more rigid chassis and improved handling performance.

The upper and lower collars in our kit are specifically machined to locate the subframe and bolts perfectly and ensure hassle-free installation. The supplied bolts feature factory-correct tips and thread engagement points to prevent thread stripping. Unlike other kits on the market that use softer alloys, our 8V Audi A3/S3/RS3 & 8S Audi TT/TTS/TTRS Subframe Locking Collars are made from stainless steel to prevent deformation and ensure a lifetime of performance.
Installation is very straightforward and can be performed in approximately one hour. No permanent modification to the subframe is required, and this upgrade is completely reversible.
Features:
CNC-Machined Stainless Steel Locking Collars
Application-Specific Design for Both Upper & Lower Locking Collars
Engineered to Properly Locate (Center) Factory Front Subframe & Eliminate Shifting/Clunks
Includes New Factory Subframe Bolts
Improves Chassis Rigidity & Handling Performance
Addresses Volkswagen Subframe Knocking Noise Permanently!
Will Not Cause Additional NVH Transfer Inside Cabin
Easy, Straightforward Installation Takes Approximately 1 Hour!
What's Included:
034Motorsport Stainless Steel Upper Front Subframe Locking Collars (Set of 2)
034Motorsport Stainless Steel Upper Rear Subframe Locking Collars (Set of 2)
034Motorsport Stainless Steel Lower Subframe Locking Collars (Set of 4)
Subframe Bracket Spacing Washers (Set of 4)
Factory Replacement Subframe Bolts (Set of 4)
Installation Instructions:
Fitment:
2015 - Present Audi A3/S3/RS3 (8V/8V.5 - MQB)
2016 - Present Audi TT/TTS/TTRS (MkIII - MQB)
---
We Also Recommend
---