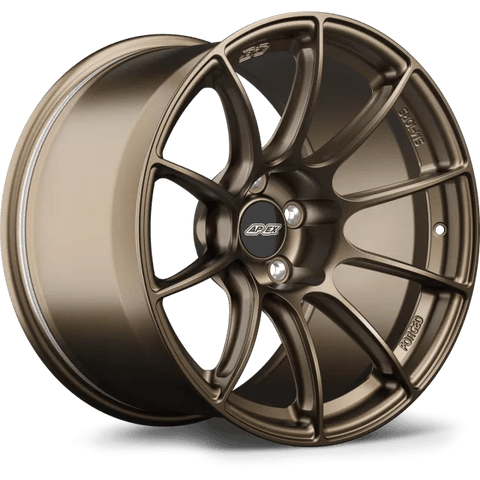 Apex 18" Sm-10Rs Forged Porsche 5X130 Wheel - Satin Bronze
Your Fastest Lap Is Calling
As part of our Forged Sprint™ Line, the SM-10RS was built to be extremely light while still offering a meaningful strength increase over our flow formed wheels. For those looking to shed as much weight as possible to improve lap times.


10K Tons of Pressure
Our new forgings weigh as much as 120 pounds before machining. To form such a thick blank we require special equipment capable of 10,000 metric tons of pressure. This extreme pressure increases the strength of the aluminum by eliminating porosity and improving the grain structure.
True Motorsport Blanks
Many companies use 3rd-party blanks intended for non-motorsport wheels which can severely limit sizes, concavity, spoke design, and critical brake clearance. We designed our very own blank profiles from scratch to give us total control over the final product.
I-Beam Spokes
One of the most noticeable features of the SM-10RS is its use of side-milling on both sides of each spoke, creating an I-beam effect. Any excess material that doesn't add strength is carved out using a precision CNC ball cutter. Side-milling is often deemed cost-prohibitive by others, but for true performance without compromise we believe it's essential.
A Stronger Lightweight Wheel
Our forged Sprint™ wheels are lightweight without the strength compromises found on typical lightweight wheels. First, we carved out as much material as possible, then we purposefully added one pound back to reinforce critical areas, creating a stronger inner lip and a higher load rating.² What's the point of a lightweight wheel if it's fragile?
Weight Optimized
We conducted extensive Finite Element Analysis (FEA) to reinforce high-stress areas and to remove material where it didn't improve strength. The result is a wheel that is exceptionally light without the strength compromises found on typical lightweight wheels.²
Greater Stiffness
The SM-10RS is not just another style to choose from. We used Finite Element Analysis of bending loads to optimize spoke geometry for greater stiffness without increasing weight. In fact, the SM-10RS is nearly identical in weight to our popular VS-5RS yet almost 10% stiffer, and 25% stiffer than our first generation of forged wheels.
Independently Tested
We don't rely solely on computer simulations or unverifiable in-house testing. We believe independent testing is critical to protect consumers in this unregulated industry. We chose STL, an independent lab in Ohio, to test our Sprint™ wheels far above JWL standards, including increases in testing duration, impact drop height, and total load.
Tougher Inner Lip
Introducing the Sprint™ spec inner lip, with a unique channel profile that makes it even stronger than our previous designs. So even though our Sprint™ wheels are pounds lighter than comparable flow formed wheels, the inner lip is stronger.
32%
More reinforcement
than our flow formed wheels3
Big Brake Clearance
From day one, APEX has been on a mission to build wheels that clear big brakes. Our new forged wheels are the product of everything we've developed over the past 10+ years, including an innovative high-clearance barrel design and vehicle-specific spoke profiles.
Deeper Concavity
Our new forgings were redesigned to create extra deep, concave spoke profiles. Their new shape allows us to make any profile, from flat to deep and everything in between. Each one is optimized for a specific application using 3D laser scans of factory and aftermarket brake kits.
Paintless Knurled Bead
Whether it's a day at the track or months of street driving, repeated hard braking and acceleration can make a tire slip along the bead seat and go out of balance, causing vibration. Knurled beads help, but are less effective when painted over. Our forged line features unpainted knurled beads that stay sharp and maximize grip.
Built for Impact Sockets
Track wheels need track tools. Don't settle for wheels that require undersized tuner lugs or thin walled sockets. All APEX wheels accommodate over-sized race lugs and impact sockets to make swapping wheels lightning fast. 32mm Socket Diameter Clearance
Laser-Engraved Specs
As track enthusiasts ourselves, we know how frustrating it is to try to locate and decipher wheel specs that have been hastily hammered into the rim or become unreadable over time. With our new Sprint™ wheels, we chose to invest a little extra and laser-engrave the specs on the barrel, in plain sight, making them easy to find and read. (You're welcome.)
Hub Centric
All SM-10RS wheels are purpose built for select vehicle applications. Very few applications require centering rings.

Center Caps
* Capless-center and centerlock wheels do not include APEX center caps. Certain unique fitments support an APEX center cap that is not interchangeable with the OE cap. See your vehicle-specific product page for additional details.
Wheel Hardware
Wherever possible, APEX wheels are designed to be used with OEM mounting hardware* as well as high-quality wheel spacers, stud conversion kits, wheel locks, and more. See our Accessories pages.
*A small number of applications use conical mounting hardware in place of the OEM ball seat hardware. Visit individual product pages to confirm hardware type/compatibility.
TPMS
All APEX wheels accept OEM and aftermarket Tire Pressure Monitoring Sensors and standard fit valve stems. If you don't have sensors, then select from our metal stems available in multiple finishes.
A Wheel You Can Depend On
All APEX wheels come with a lifetime structural warranty against defects in workmanship and materials, plus a 1 year finish warranty. Exchanges are fast, easy, and hassle-free.
See terms and conditions.
ACCIDENTAL
DAMAGE
REPLACEMENT
Curb rash or pothole damage on the street? Make an oopsie at the track? We've all been there. APEX is proud to offer 50% off replacement wheels, no matter the damage.
See terms and conditions.
A Fitment For You
We've tirelessly test-fitted hundreds of setup combinations in order to provide direct-fit, spacer-free wheel packages for everything from showroom-fresh cars to all-out race builds. Our detailed fitment guides help you avoid costly trial-and-error and walk you through every step of finding your perfect setup.
---
We Also Recommend
---