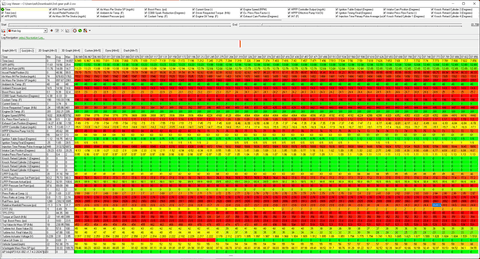 EQT Professional Log Review Service - VW/Audi MQB/e 1.8T/2.0T
EQT Custom tunes are all reviewed by our trained calibration team, each custom tune utilizes data logging to refine and perfect the tune until the customers' satisfaction or a safety limit is reached.

EQT Staged tunes are developed with hundreds of hours invested into them between street and track driving as well as dyno results.

EQT Staged tunes perform perfectly on vehicles with the proper equipment and sufficient maintenance, however, if your EQT Staged tune is delivering data that you're unsure about, perhaps you have some knock retard, or your Lambda/AFR seems a little off, you can submit your logs to us for professional review and diagnostic.

No amount of software or tuning is going to remedy a mechanical fault, often times the ability to data log the cars utilizing our EQT Log list will help discover a mechanical fault or limitation, note that there is no adjustment to the tune that will remedy it so seek professional repair facilities if a component is discovered to be weak or defective.

Note that while EQT staff will do our best to help diagnose an issue with the information we have, it is in no way a replacement for a proper in-person shop diagnosis.

How should I Include my Datalog?
If you are only submitting one data log for review, feel free to include it in its native .csv format.

If you are submitting 3 data logs, please zip them into a central .zip folder and title them with your name.
How long should I Datalog for?

Excessively long logs will only hurt our ability to locate your issue as well as take up valuable time. Typically you want your log to be short and concise, but long enough to demonstrate the concern or issue you're experiencing.

If your issue is at idle, a brief 2-3 minute log at idle is sufficient.

If it is under normal driving, make sure you can duplicate the issue first before taking a log specific to send to us.

If it occurs under Wide Open Throttle, your single gear pull should be sufficient.
How to Install the EQT Log List
Logs submitted that do not use the EQT Datalog list will be rejected. 
EQT LOG LIST DOWNLOAD


With the AccessPort connected to the car, go to the logger settings menu (top of the screen) and load the eqt_loglist.cfg file. This will pre-set the logging parameters I need to see for tuning.
Please refer to this video for detailed instructions for loading the preset file
Make sure you don't have any Check Engine, EPC lights, or any other errors. If you encounter an error or anything strange at any point, DO NOT proceed with further testing. Use the AccessPort to scan for codes and write them down before attempting to reset the ECU. Notify me of any such issues ASAP.
What Should I Log? (Generic)
Start a log, turn off traction control, and do a full-throttle pull in 3rd gear from 2000RPM to 6500RPM. Download the logs from the AccessPort and e-mail them to me for review. Please also include your tire size and the weight of the driver/passengers and any extra cargo. Avoid further aggressive driving until we have a chance to review the log and respond to your e-mail.
What Should I Log? (Specific)
If you have a specific concern regarding your vehicle, do your best to duplicate those conditions in order to assist us in diagnosing your issue. If your car only does whatever you are concerned about at 3,000rpm at exactly 72mph in whatever gear. There is no need to send us a Wide Open Throttle log, or a log at idle. 

Do your best to make the best of this service and provide us with the information needed to diagnose YOUR specific issue
---
We Also Recommend
---