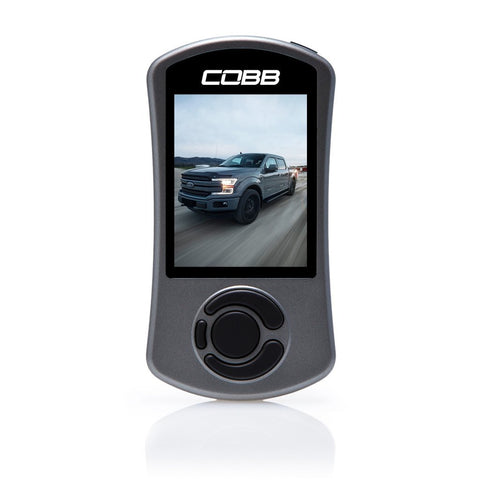 Cobb ACCESSPORT TCM Flashing Upgrade (F-150 Raptor 2017-2020 / Limited 2019-2020)
OR ADDING TCM FLASHING CAPABILITIES TO YOUR NON-TCM ENABLED ACCESSPORT. (F150 Raptor 2017-2020 / Limited 2019-2020)



DESCRIPTION

Raptor 2017-2020, Limited 2019-2020

Accessport TCM Flashing update for Ford Raptor and F-150 Limited Accessports.

This version of the Accessport includes the capability to flash the TCM which is the unit that controls the transmission. It includes various Off The Shelf transmission tunes which adjust shift points, shift firmness, skip shift behavior, and torque limits to fit your preferred driving style.

Select this part number if you already own an Accessport for your Raptor/Limited.

Warning! Installation of this Accessport over anything other than OEM or COBB software may result in ECU/TCU failure. Please contact

 

COBB Support

 

if you have any questions.

Contact COBB Customer Service via

 

support@cobbtuning.com

 

or

 

(866)922-3059

 

to order. You will then receive an email with instructions to perform a custom firmware update using

 

Accessport Manager

.

 

---
WHY?
The Accessport is the world's best selling, most flexible, and easiest to use ECU and TCM upgrade solution for your Raptor. Unlock power hidden within the vehicle by replacing conservative factory settings with more aggressive calibrations. Follow our staged upgrade path with pre-loaded Off The Shelf (OTS) maps or use custom mapping for any modification level. It's the last engine management solution you'll ever need.

Stage1 93 Oct. or 98 RON
Peak Gains: +15.32% HP / +17.07% TQ
Max Gains: +28.92% HP / +28.92% TQ
---

Stage2 93 Oct. or 98 RON
Peak Gains: +23.53% HP / +20.93% TQ
Max Gains: +50.64% HP / +50.64% TQ
Generally speaking, 91 octane calibrations have a less aggressive ignition advance map to help compensate for lower octane fuel blends. The maps designed for 93 octane are the most aggressive. Peak Gains are measured as the absolute maximum value between the highest points of two plots. Max. Gains are measured as the maximum delta percentage between two plots. Results may vary. Power as tested on 2018 F-150 Raptor vehicles using these identical calibrations.
CLICK HERE FOR MAP NOTES & POWER GAINS
---
FEATURES
Ford Accessport V3 (Upgrade to TCM Flashing) F-150 EcoBoost Raptor / Limited
Large, full color, higher resolution screen
Customizable multi-gauge display
In vehicle mount, with on/off switch
Can be used with Accesstuner (available separately) to create custom tunes
Interchangeable faceplates
---
We Also Recommend
---