EcuTek ProECU Programming Kit w/ TCM + ECM Licenses (GT-R)
Supported Models
Nissan GT-R R35

All models from MY 2009 onwards
RaceROM Custom Features for the ECM and TCM
RaceROM Custom features are written into our tuning software to give you unique features that don't come as standard. They need to be set up by an EcuTek tuner, and you may be charged extra as they take time to configure.
Four-way Mode Switching

Swap between four different modes using either the cruise control buttons or ECU Connect on your mobile device. Which mode you are in will be indicated on the rev counter. For example, you could get your tuner to set up a tune on mode 1 designed for track days – Track Mode; For enjoying yourself on the road in mode 2 – Fast Road Mode; Godzilla on mode 3 – Godzilla Mode; and a tune for driving your grandma around on mode 4 – Economy Mode. It's up to you to decide what set-up you want in each mode.
Live Boost Adjustment

Once your tuner has set this up in the tune, you can use the cruise control or the ECU Connect app to adjust these parameters live. You can even display them on the Oil Temp gauge.
Adjustable Launch Control with BOTL

Live adjustment of the launch RPM using the cruise-control switchgear or the ECU Connect app. BOTL (Boost-off-the-line) enables you to set any boost pressure you want on launch! Use the ECU Connect app to adjust this live. It can be enabled in any map switch mode.
Adjustable

 

Slip Based Traction Control

Aggressiveness can be adjusted in each of the 4 modes using the ECU Connect app on your phone, provided your tuner has set this up as a custom input to ECU Connect.
One-Touch AntiLag/Rolling Launch

Rolling Launch allows you to roll race at the touch of the button. To set, enter the map switch mode in which Your tuner has set up rolling Launch. Press and hold the cruise control set button to build boost, floor the accel pedal aaand…release the set button and enjoy! Your tuner can set up the system using activation time limits, temperature limits, and a minimum re-arm time to maintain reliability.
Per Gear and RPM-based Boost Control

Your tuner can set up gear and rpm dependant boost targets fully integrated with our FlexFuel strategy offering independent targets and boost limits for gasoline and ethanol. With high and low altitude base wastegate duty maps, atmospheric pressure compensation for boost target, wastegate duty and feedback activation, excellent boost control is possible no matter your turbo installation or operating conditions.
Speed Density Option

Run a speed density tune if you are running big twin or single turbo conversions or want to get rid of your MAF sensors to run bigger intakes.
12-Injector Support

Run 12 injectors with the factory ECU. Using an aftermarket injector driver box combined with a plug and play harness, this feature offers in-depth injector and fuel pump control to accurately phase the additional set of injectors. You can use different-size primary and secondary injectors to retain a perfect idle and drivability, plus high-power fuel flow when you need it.
Self Adjusting FlexFuel

No more worries about calculating the ethanol in the tank; our RaceROM self-adjusting flex-fuel does it all for you. Just fit a 0-5v Flex Fuel sensor, and off you go. Whatever Ethanol content in the tank, the tune will automatically adjust to give you optimal performance. Link up with ECU Connect to display the current Ethanol blend on a gauge in a dashboard.
Clutch Slip Protection

No more burning out expensive clutch packs! Let RaceROM manage the ignition and torque during a clutch slip event
6 x ECU Inputs

Import 0-5V signals (wideband, flex-fuel, EGT etc.) through various sensor inputs.
4 x ECU Outputs

Drive 1 PWM and 3 digital solenoid outputs to switch on nitrous, water meth injection, trigger a pump or other external device.
Valet Mode

Low power mode with reduced torque together with a time and distance limit giving you peace of mind when the car is in someone else's hands. Arms and disarm using steering wheel controls or via the ECU Connect app.
RaceROM Transmission Features
Increase the Clutch Clamping Pressure

Lift the 16 bar factory line pressure limit to 20+ bar to limit slip and protect your clutches in cars running 1,000+ bhp. Your tuner can also adjust solenoid current limits to add additional clutch pressure.


Adjust vehicle-speed shift points

Set maximum allowed RPM limits for gearshifts.

Enable launch control in manual, in automatic, with VDC ON or OFF

Log the ECM and TCM simultaneously using ECU Connect.
ECU Connect – Use your Phone to program the ECU and control your tune
Our free ECU Connect App can be used to control some of our custom RaceROM features in conjunction with our ECU Connect Interface. Find out more about ECU Connect here
The following features need to be set up in the tune by your tuner before the ECU Connect App can access them.
Mode Switching

Switch between four different modes as detailed above on the fly using your phone. Mode can be displayed on the tacho or coolant gauge depending on how you want it set up – speak to your tuner.

Launch Control with BOTL

Adjust the launch control RPM using a slider on your phone.
Adjust BOTL boost using a slide on your phone

Boost Control

Adjust boost in each mode, live, using sliders on your phone.

Custom Features set up by your tuner

You have up to five features that can be controlled using your mobile device. Configurable as a slider, numerical value or on/off switch, these inputs can be set up to interact with the ECU directly from the driver's mobile device. Speak to your tuner to discuss what you would like.

Typical features you could set up are:

Make your Traction Control more or less aggressive
Activate your Nitrous
Set up a Push To Pass button
Set up a pit lane speed limiter
Adjust your pedal map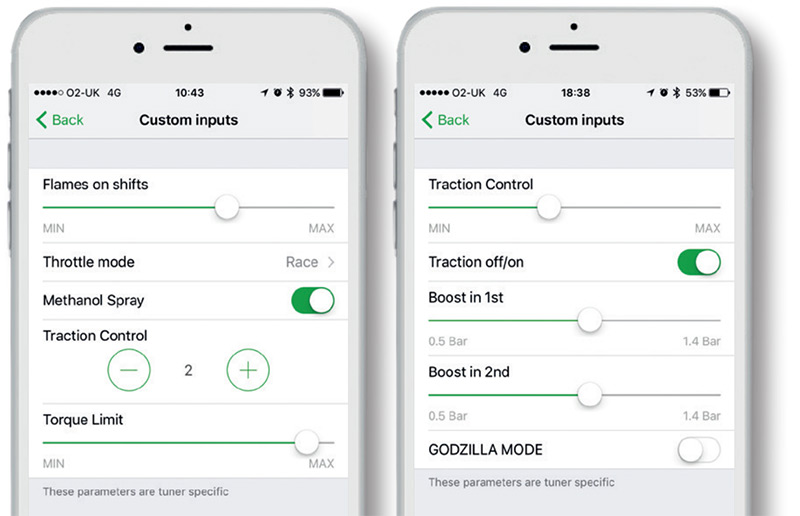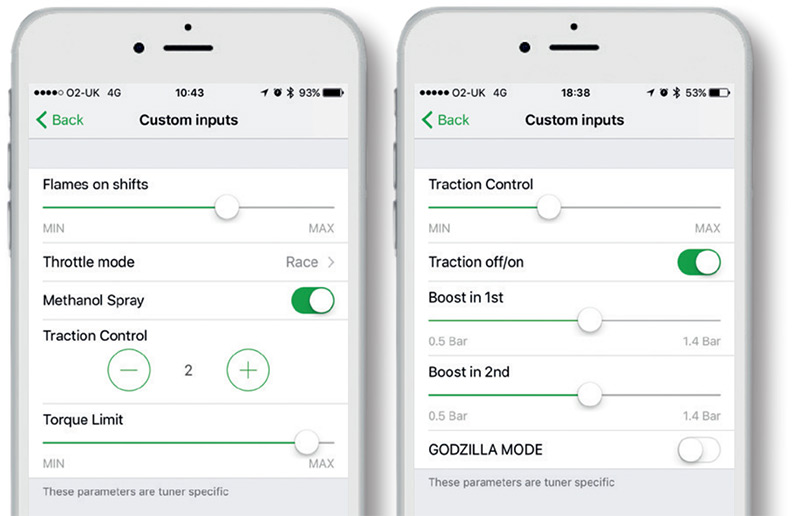 GT-R Special Tools
ECM tools include ECM Reset and Idle Learning
TCM Tools include Clutch Auto-learning, Clutch TouchPoint and Pressure adjustments
Read/Clear Clutch Protection & Warning History
Tyre Pressure Monitor System (TPMS) Function for TPMS registration sequence (requires a third-party TPMS tool)
Fuel Pump Tool – switch either or both pumps on or off for testing/troubleshooting
For more detail on ECU Connect features for the GT-R R35 Platform, click here.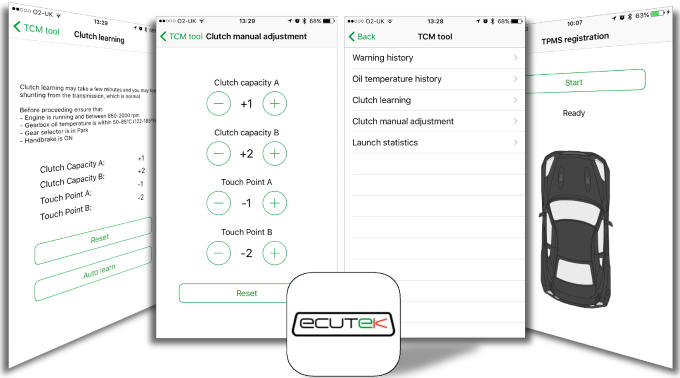 And there's more…
Monitor and log 100s of engine and gearbox parameters
Create unlimited personalised dashboards to monitor what you need.
Click here to find out more about dashboards
Read and clear DTCs (Diagnostic Trouble Codes)
Reset your ECU
Check your before and after a tune with the Performance Analyser
Set up and send logs to your tuner direct from the app
Note: The above features do not require an EcuTek Tune and are available on nearly all vehicles manufactured after 2008
---
We Also Recommend
---